The Yardster Sno-Thro - 1950's

Before we get to the classic Ariens Sno-Thro snowblower, introduced in 1960,
did you know Ariens actually offered a snowblower *before* 1960?
I didnt! but Ariens snowblower offerings actually date to the early 1950's!

In 1952, Ariens came out with a new garden rototiller model called the "yardster"..
the yardster's primary function was a rototiller, but it was capable of taking additional attachments, one of which was an early snowblower attachment!

The "yardster sno-thro" was presumably available 1952 to 1959, then the stand-alone sno-thro came out in 1960, the one we know today as the classic Ariens snowblower.

At first I could only find some advertisements, but no actual photos or images of the sno-thro attachment: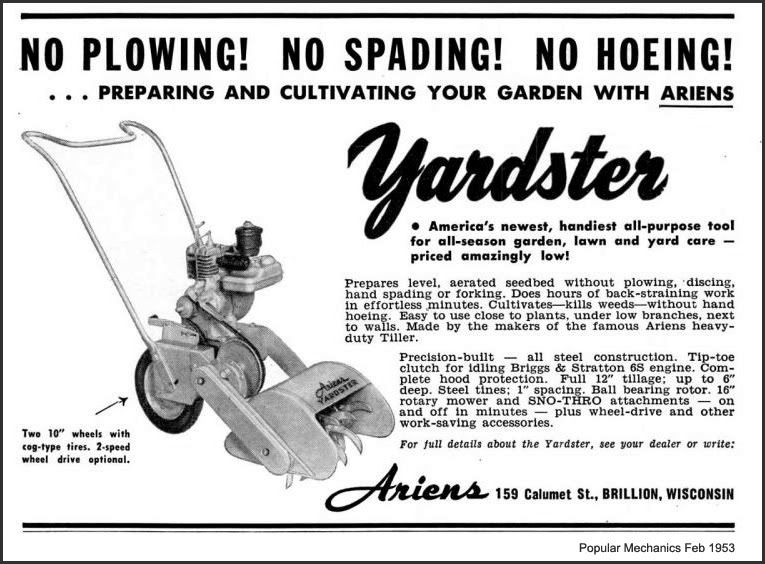 Those three magazine ads *mention* the sno-thro attachment, but dont show what
it looks like! That was all I could find for awhile..

Then fellow Ariens enthusiast Jamie Wallace found and won a yardster brochure on ebay!
He then sent me some scans of his brochure and let me post them here, for all to enjoy..
thanks Jamie!

(there is also a back cover, but it is completely blank)

The brochure is undated, but based on what we know about the yardster, it is from
sometime in the 1950's.

An interesting bit of snowblower evolutionary history!
I havent seen an actual photo of a yardster sno-thro, apart from the brochure above.
if anyone knows of one, please let me know!